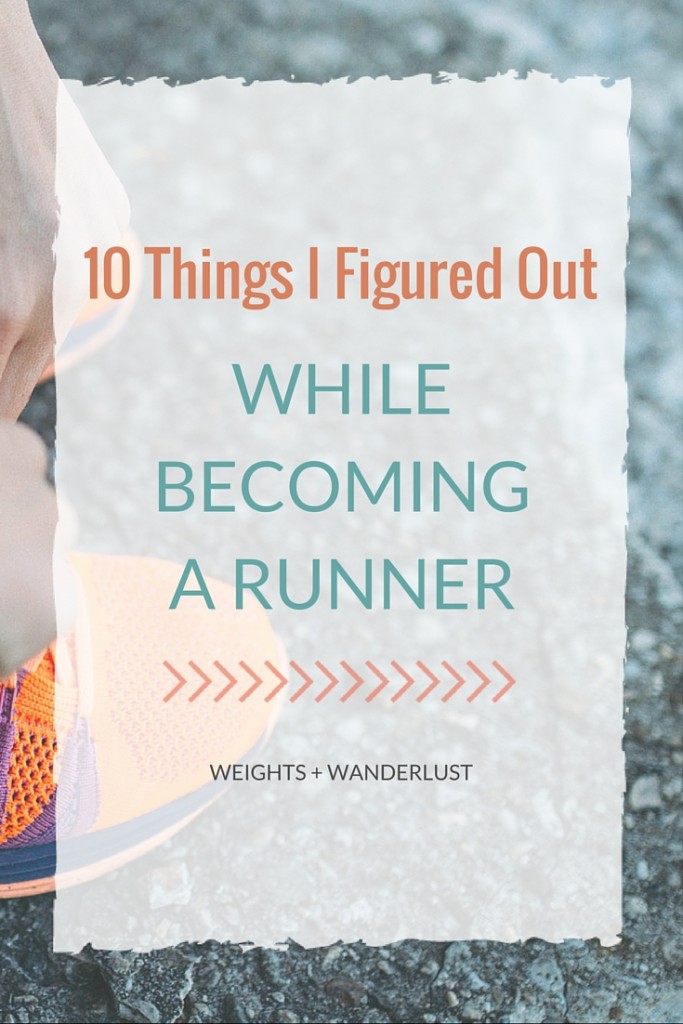 By no means am I a pro runner. And because I've taken a rather long and spotty hiatus from running generally, I'd say I'm a beginner in way of fitness and an intermediate in way of knowledge. But I've learned quite a lot since starting my fitness adventure, and I'm sharing here with you what I figured out while becoming a runner. 
Stock up on Bodyglide
Happy feet are moving feet, and nothing will stop you in your training tracks faster than chafing or blisters. Same goes for your bra line, underarms, inner thighs and anywhere else that's prone to painful irritation. Bodyglide works wonders for run-proofing your delicate surfaces by creating an invisible barrier between your runwear and your skin.
Invest in decent running shoes
If you're going to go the distance, you've got to be comfortable. And no amount of Bodyglide you slather on your feet will make up for wearing ill-fitting shoes. At some point during your run, excessive friction will push past your protective barrier and give you the irritation you tried to avoid. Plus, shoes that are worn or not the right fit can cause foot pain, knee problems and other unpleasant issues over time.
Buy a mighty sports bra
Listen, even jogging at a turtle pace will make your boobs bounce, and as your speed increases, so will the bouncing. All that movement isn't great for your chest and can – gasp! – lead to sag. Start by learning how to choose the right sports bra for your body, then hit up places like Kohl's and Nordstrom Rack for great deals on high-quality sports bras with maximum support.
Find your pre-run fuel
Running on an empty stomach can leave you feeling ravenous before your session is even halfway over. And if you get side stitches easily, you likely need to leave a few hour gap between consuming anything and getting your stride on.
Which is exactly how I came to love like gel shots, and only one brand specifically. If you need something in your tummy to help fuel you, give Clif Shot Gel a try. You can buy individual packets to test out the different flavors, and should one of them dazzle your tastebuds, you can buy a bulk pack and save a few bucks.
Build up your mileage slowly
Don't be in a hurry to get to the finish line! Going from zero to 5K takes time and consistency. Follow a training plan or tune into your body and increase distance whenever it feels right.
Also, walk or jog when you need to. There's no shame going at your own pace – in fact, you'll be less likely to risk injury, which will definitely slow you down. What's important is you're increasing your overall cardio and endurance.
Work your booty!
That junk in your trunk is what powers your run, so do squats and lunge twice a week to build up your glutes and quads. You can also vary things up by taking to the hills and stairs, which not only help you get vertically fit, but they're a natural alternative to fartleks if you prefer to escape into your thoughts.
Create a fresh playlist
You know what sucks? Having 10 favorite songs you can't stop listening to, then forcing yourself to continue playing them long after you've lost interest. Stale playlists aren't very motivating, so go ahead and buy yourself a handful of new tunes.
Plus, you can always nudge your loved ones to give you an iTunes gift card for your birthday or the holidays. Talk about an easy way to keep your iPod Shuffle loaded with new tuneage!
Pick up a good read
A great way to stay motivated is by following the stories of people who have been right where you are now. Back in 2008, I got hooked a few books that continue to inspire me today, including Slow Fat Triathlete, Half-Assed: A Weight-Loss Memoir and The Non-Runner's Marathon Guide for Women. Do a quick search on Google or Goodreads and discover some encouraging books that reflect your own running story.
Track your progress
Who says you can't inspire yourself? Logging your running and other workout sessions allows you to look back and see just how far you've come. There are plenty of free online trackers to choose from, like Runkeeper (my favorite) and MapMyRun. Sports watches also come with cloud tracking services, like Garmin Forerunner 10 and Polar M400 (I have both). Or you can go the traditional route and use a journal or weekly planner to record your data (I also do this).
Get a virtual running buddy
Running buddies can keep you accountable…or they can be a distraction. With pals in tow, you're more likely to socialize than focus on your session.
That's why having a virtual buddy or group is so great. You can get into your zone, find your stride and then bask in those hard-won endorphins, knowing you successfully gave it your all. Afterwards, you can connect with others on MyFitnessPal, in Facebook groups or one-on-one.
But if you're one of the lucky ones who actually benefits from in-person running buddies, by all means, find yourself one or three!