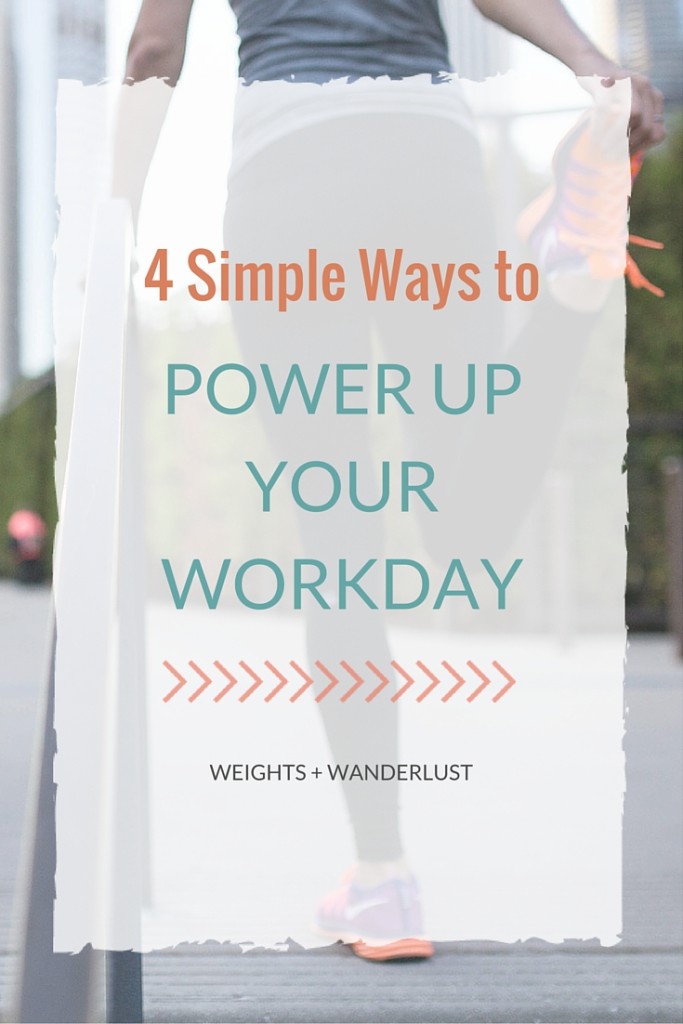 Between long commutes, desk jobs and nightly Netflix binges, many of us don't get enough activity during the week. But with a few simple tweaks to your daily grind, you can lead a healthier on-the-clock lifestyle in no time.
Having lost over 100 pounds on my own via what I call my "fitness adventure," I came up with plenty of ways to sneak in a little fitness here and there. Are you ready to power up your workday? Here are four tried-and-true ideas to help get you moving. 
Drink plenty of water throughout the day
Water not only touts all kinds of life-changing health benefits, but the more you drink up, the more you'll have to go. (Green tea also works wonders for this.) At times, this could be every hour (or if you're like me, sooner). And what better internal reminder to stand up and stretch your legs than the urgent call of a full bladder?
Fit Tip: Head for a bathroom that's on a different floor or other side of the building to get in some extra steps. All those steps add up fast and you'll be well on your way to hitting your daily 10,000 mark.
Find a stairwell for some quickie cardio
Don't waste your 10-minute breaks scrolling through Facebook or Instagram. This is a great time to squeeze in a mini exercise session that gets your blood pumping and boosts your energy.
If your building is two stories or more, find a hidden or out-of-the-way stairwell and do a stair climbing workout. Try mixing up these routines throughout the week:
Walk or jog up and down the stairs

Climb stairs two steps at a time, then walk or jog down normally

Angle your feet toward the front right corner and climb up sideways, walk or jog down normally, then repeat facing the left corner
Alternatively, if your building is just one story, look for a nearby outdoor stairwell or small hill and climb away it until your break is over.
Do some bodyweight moves in an empty room
More muscle means more calories burned while sitting in your office chair or during your commute. Another way to turn a lazy break into a energy-boosting one is to knock out a few toning exercises.
Bodyweight moves are great for this. Scope out an empty conference room, outdoor courtyard  or other empty space. Bring a yoga mat and do some variations of push-ups, planks and kneeling or side-lying leg lifts.
No yoga mat? Try standing exercises like wall push-ups, wall squats, standing crunches, chair squats and three-way lunges.
Challenge your cubicle mate to a 30-day challenge
Buddy up with your fellow cubicle dweller or another coworker and get your fit on together. You'll not only have a built-in accountability partner, but it will make fitness (and your job) that much more fun. Plus, your inner competitive side will push you to keep it up when you're at home on the weekends.
There are countless challenges to choose from: workouts, clean eating, water intake, you name it. Do a quick search on Google or Pinterest, find one you both like, and tack a print out of the challenge on the wall. Track your progress by crossing off each day on the printout or logging how you're doing in a notebook or app. Being able to look back and see how far you've come will help you keep the momentum going once the challenge is over.
Creating small daily fitness habits will lead to positive changes in your health and happiness. And before you know it, all of your small actions will soon become a natural part of your workday.